Description
Buy Corsair HX1000i 80+ Platinum PSU in Pakistan | TechMatched
HX1000i Fully Modular Ultra-Low Noise Platinum ATX 1000 Watt PC Power Supply
CORSAIR HXi Series, HX1000i, 1000 Watt, 80+ Platinum Certified, Fully Modular – Digital Power Supply
Features:
High Performance Design

80 PLUS Platinum certified efficiency

Flat black, low-profile modular cables

1000 watts of reliable, continuous power delivery.Fan bearing technology:Fluid Dynamic Bearing

ZeroRPM mode for fanless operation at low loads and outstanding noise reduction.
HXi SERIES
CORSAIR HXi Series Fully Modular Ultra-Low Noise Power Supplies with three EPS12V connectors use the highest quality components to deliver 80 PLUS Platinum efficient power.
DIGITAL POWER SUPPLIES
PLATINUM POWER AT YOUR COMMAND
High power and incredible efficiency in our quietest PSUs yet
HXi Series power supplies give you extremely tight voltage control, virtually silent operation, and a fully modular cable set. With all Japanese 105°C capacitors, they're a great choice for high performance PCs where reliability is essential. 80 PLUS Platinum efficiency reduces operating cost and excess heat, and together with Zero RPM Fan Mode technology, gives you virtually silent operation.
Quiet, efficient operation
80 PLUS Platinum efficiency and Zero RPM Fan Mode mean that at low to medium loads, the fan doesn't spin at all. And when you do push the HXi hard, the thermally controlled fan spins only as fast as it needs to.
But that's not all. It's quieter than most PSUs when the fan's not spinning, too. The HXi is built with capacitors and other internal components specially selected to reduce coil whine and other electronic noise.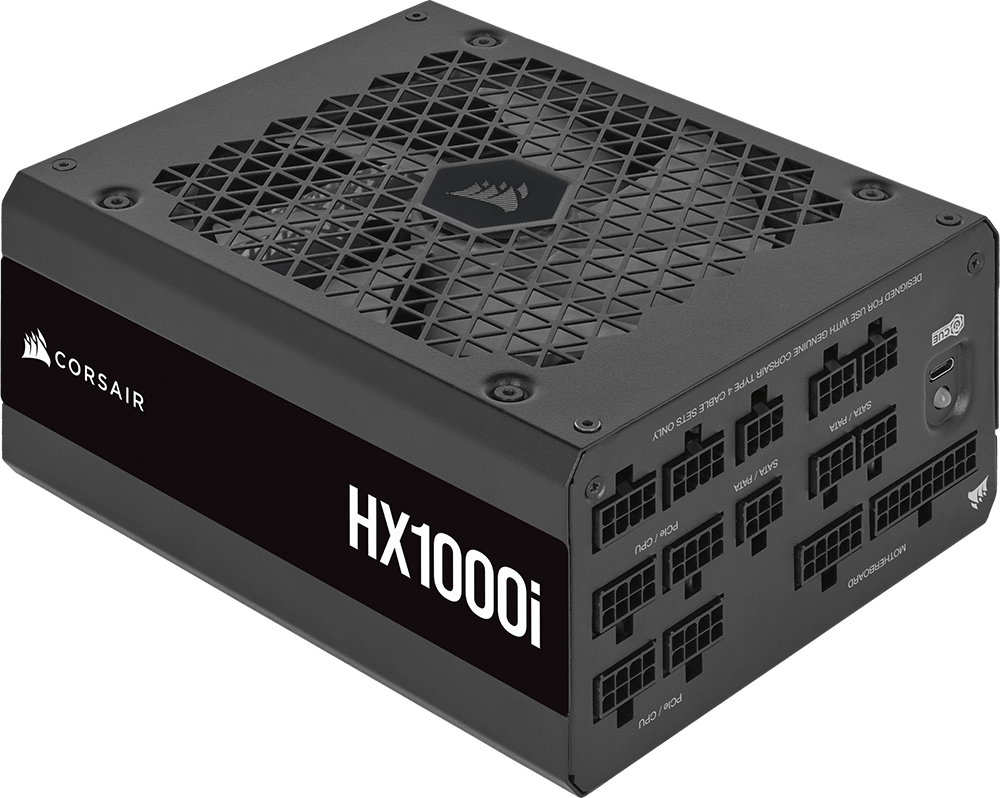 POWERFUL CONNECTIONS
With three EPS12V connectors and fully modular cabling, HXi Series platinum power supplies have every connection needed to power today's most demanding PC upgrades now and into the future, including the latest generation of power-hungry graphics cards and processors.
QUIET OPERATION
HXi Series PSUs combine a 140mm fluid dynamic bearing fan with Zero RPM mode support for long-lasting fan performance and near-silent operation when the fan switches off at low and medium loads – only spinning as fast as it needs to.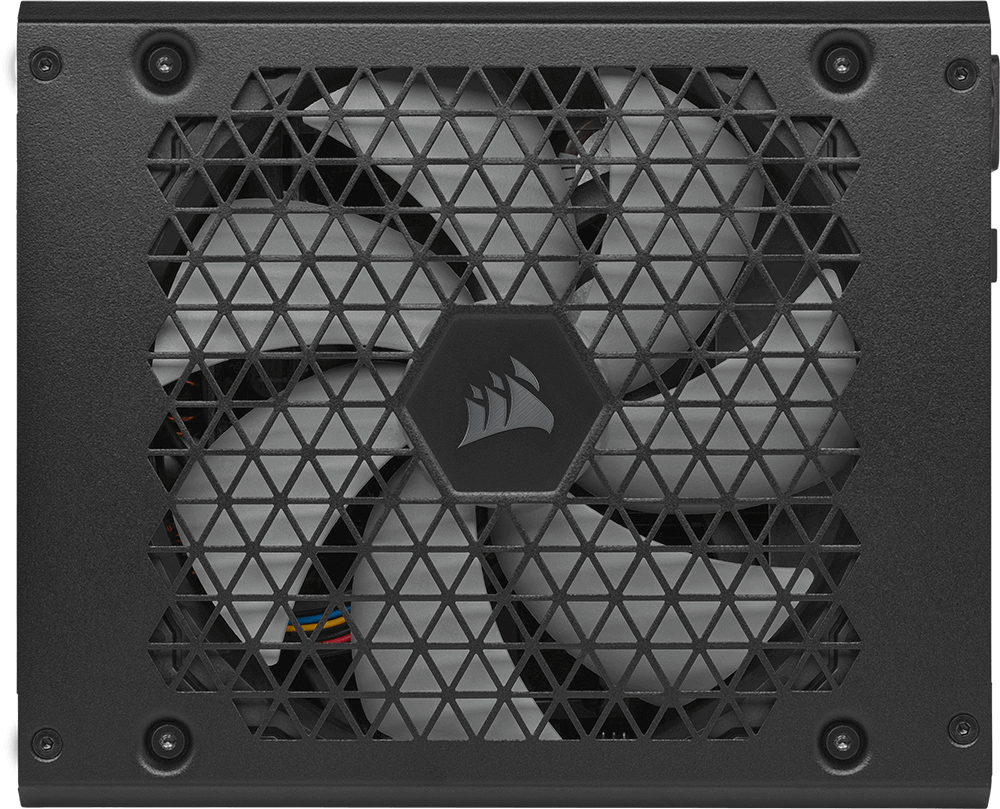 UNWAVERING POWER AND QUALITY
80 PLUS Platinum certified with premium 100% Japanese 105°C electrolytic capacitors, HXi PSUs ensure up to 92% efficiency for exceptional power delivery and long-term reliability with low power consumption, less noise, and cooler temperatures.
POWER AT THE READY
As a fully digital power supply, each HXi Series PSU provides clean, consistent power while minimizing coil whine and noise for stable and quiet operation.
Supporting Modern Standby sleep mode, the HXi Series takes low-load efficiency to the next level with quiet operation and extremely fast wake-from-sleep times.
iCUE SOFTWARE
YOUR SETUP AT YOUR COMMAND
With CORSAIR iCUE Software, you can monitor your power supply performance, toggle single rail or multi rail mode, and control fan speed directly from your desktop.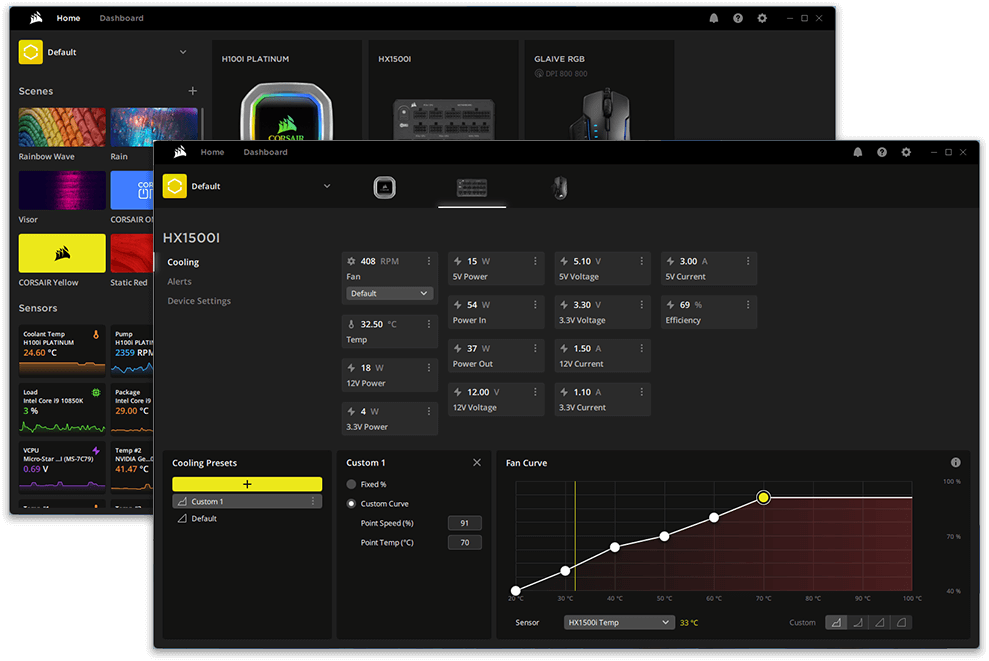 What's in the box
WORLD-CLASS SUPPORT
Our award-winning service means you can enjoy your gear worry-free.
CORSAIR iCUE software brings your entire setup together, creating a fully immersive ecosystem with intuitive control.
Technical Specs
Adjustable Single/Multi 12V Rail: Yes
Continuous power W: 1000 Watts
Fan bearing technology: Fluid Dynamic Bearing
MTBF hours: 100,000 hours
80 PLUS Efficiency: Platinum