Description
Buy Corsair CX550M 80+ Bronze PSU in Pakistan | TechMatched
CX-M Series™ CX550M — 550 Watt 80 PLUS Bronze Semi Modular ATX PSU
Corsair CX Series 550 Watt 80 Plus Bronze Certified Modular Power Supply
Features:
80 Plus bronze certified: High efficiency operation for less excess heat and lower operating costs. Compatibility supports ATX12V 2.4/2.3/2.2/2.01 and EPS12V 2.92 standards

Thermally controlled fan: Silent operation at low and medium loads. Fan size is 4.72 inch

Semi-Modular: Make your builds and upgrades easy, with clean, great-looking results
EFFICIENT POWER FOR NEARLY ANY BUILD
CORSAIR CX-M Series Low-Noise Power Supplies offer semi-modular cabling, a long-lasting rifle bearing fan, and Japanese capacitors for reliable, low-noise operation.
TUNED FOR LOW-NOISE OPERATION
A rifle bearing fan ensures longer life than conventional bearings with less noise, letting you focus more on the task at hand, whether it's gaming or work.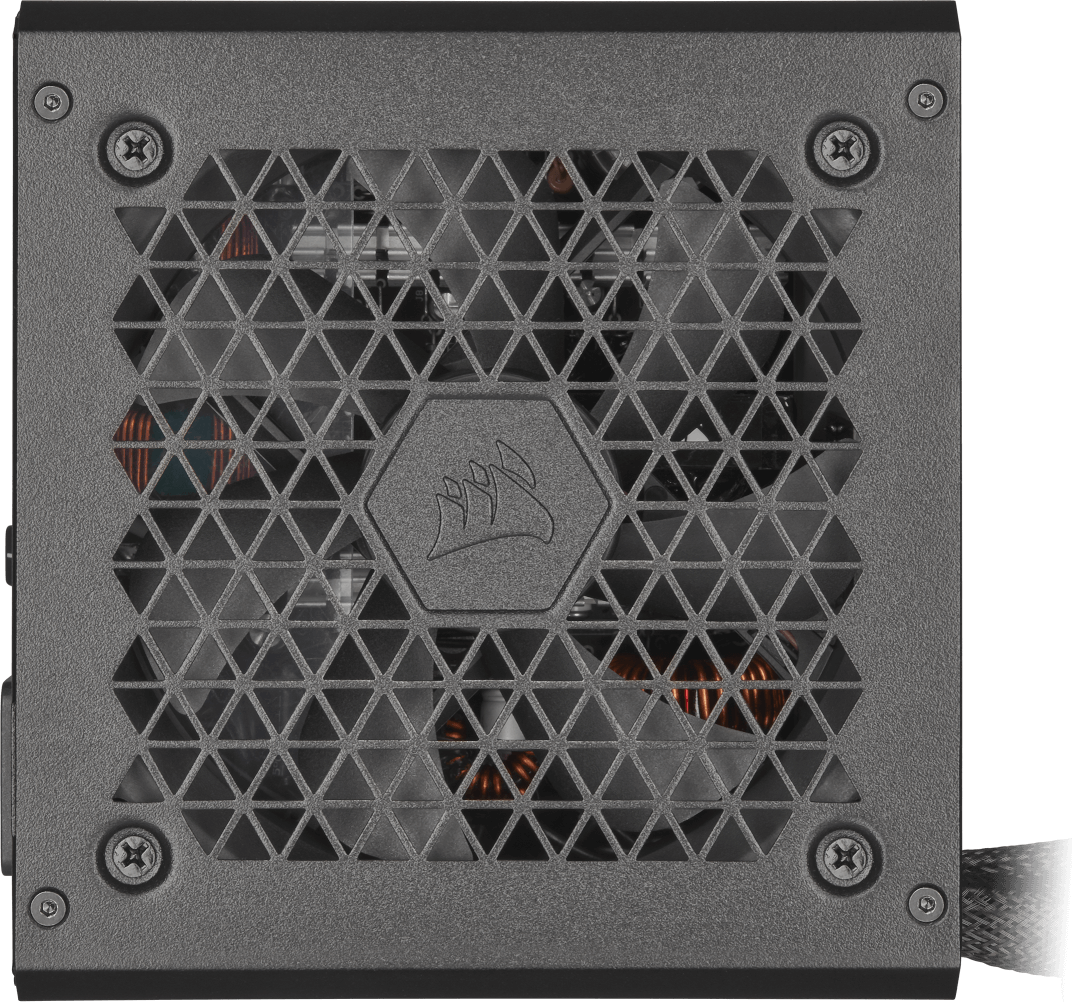 SEMI-MODULAR CABLING
Connect only the cables you need for a cleaner build with easy cable management.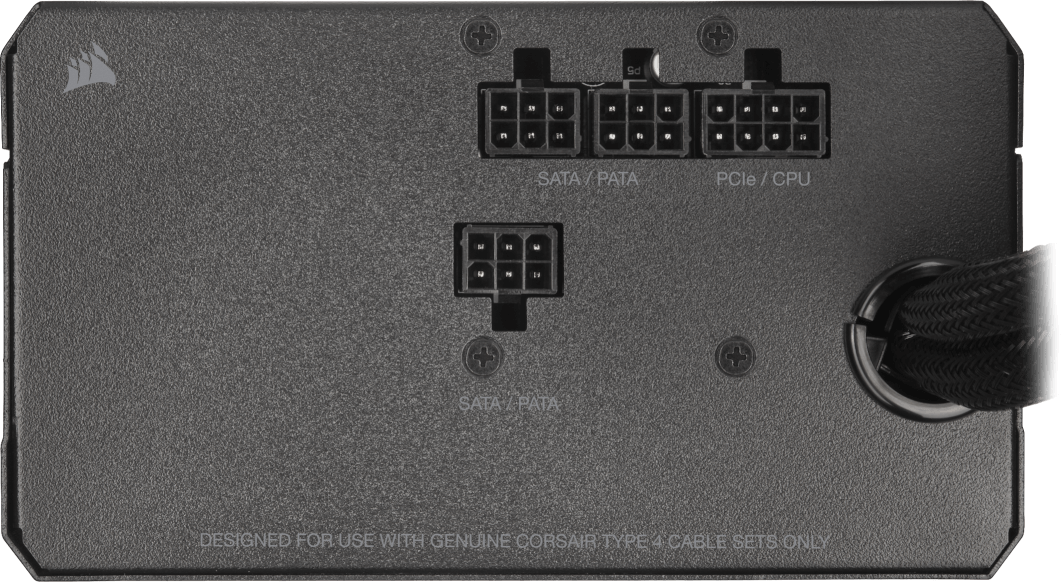 HIGH EFFICIENCY
With upwards of 85% peak efficiency, CX-M produces less noise and less heat, which means less time worrying and more time gaming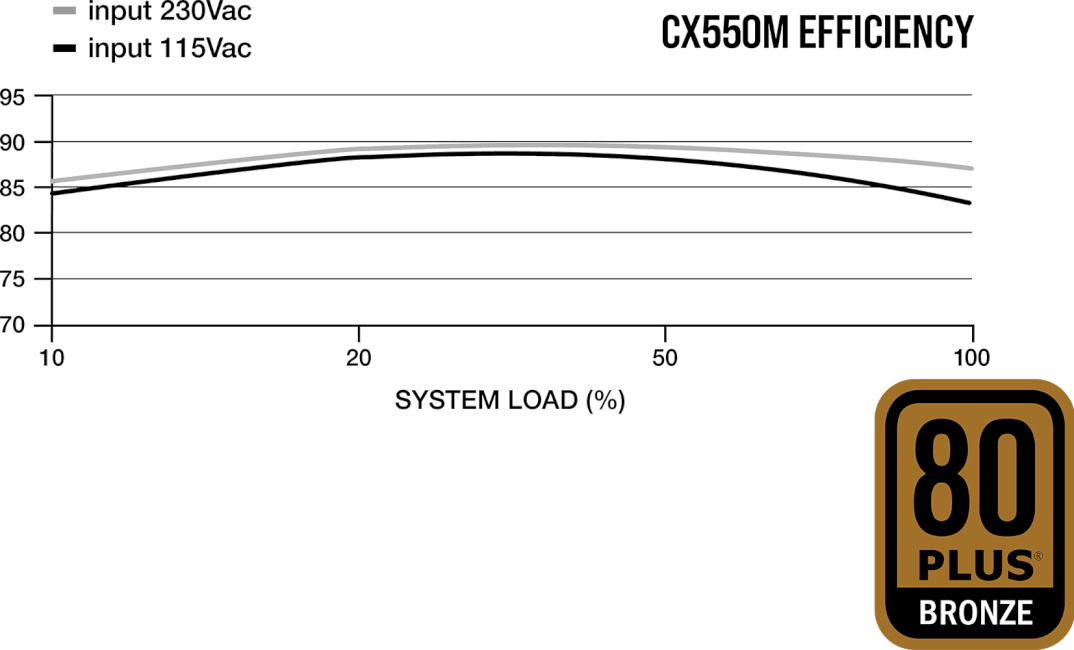 ROBUST DC-DC CONVERSION
For clean, consistent power, each CX-M Series power supply features robust DC-DC conversion and 105°C rated Japanese primary capacitors for unparalleled reliability.
COMPACT SIZE
At just 140mm long, the CX-M Series offers great flexibility in build configurations.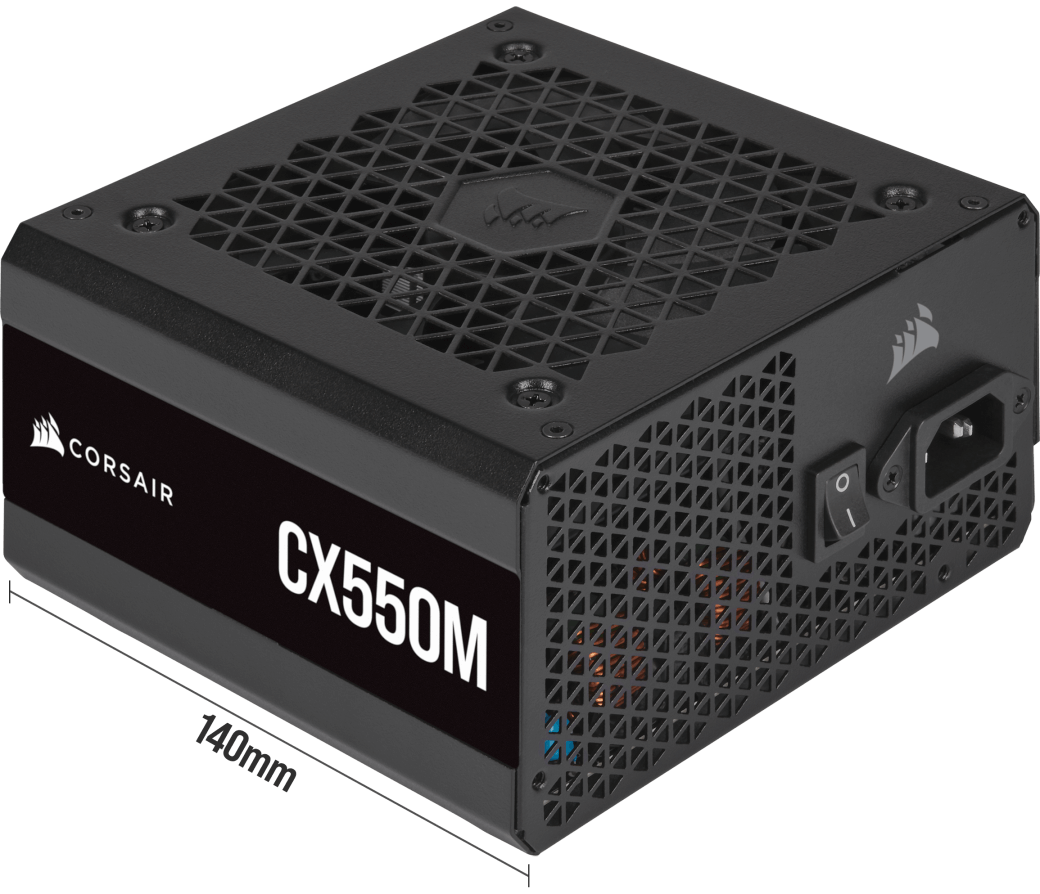 CX550M POWER
PART NO.
CP-9020220
AC Input Rating
AC INPUT
100-240V
INPUT CURRENT
10A-5A
FREQUENCY
47~63Hz
Max Load
Max Output
+5V
20A
120W
+3.3V
20A
+12V
45.8A
549.6W
-12V
0.3A
3.6W
+5VSB
3A
15W
TOTAL POWER
550W
Performance, Reliability, the Convenience of Modular Cabling for Basic Upgrades
CX Series Modular power supply units are an excellent choice for basic system builds and desktop PC computer upgrades, offering high reliability, low noise, and the flexibility of modular cabling.
Low noise
80 Plus Bronze certified efficiency and clever fan design allow for little or no detectable fan noise during regular operation.
Reliable and compatible
CX Series Modular is built and tested to strict standards for trouble-free installation and smooth operation.
Faster installation and better-looking builds
The modular cabling system lets you use only the cables you need. You get to save space and reduce clutter for a cleaner-looking build and improved airflow.
Good looks
The matte black finish, black-sleeved cables and black connectors help give your system a restrained, high-tech look.
Modular cabling system
Since the peripheral power cables aren't hard-wired to the power supply, you can connect only the cables you need for your exact configuration of PCI-E cards and storage devices. The rest of the cables stay in the box, and not in your PC's case where they can add to the clutter and interfere with airflow.
Large-diameter, thermally controlled fan
Once you've installed a PSU, you shouldn't have to think about it. Employing a thermally controlled fan makes the CX Series Modular quieter at idle, and the large diameter reduces noise even when you're pushing your system hard.
Corsair Engineering and Quality Control
Every Corsair power supply is designed by our California engineering team and built to our exact specifications. The same care that goes into the design and testing of our renowned high-power enthusiast power supplies also goes into the CX Series Modular, because you need confidence and reliability regardless of your build budget.
Compatibility
Auto-switching circuitry provides universal AC input from 100V – 240V

Supports ATX12V 2.4/2.3/2.2/2.01 and EPS12V 2.92 standards