Description
Buy AMD Ryzen 5 7600 Desktop Processor in Pakistan | TechMatched
AMD Ryzen™ 5 7600 6-Core, 12-Thread Unlocked Desktop Processor
Key Features
POWERFUL GAMING STARTS HERE

6 Cores and 12 processing threads, based on AMD "Zen 4" architecture

5.2 GHz Max Boost, unlocked for overclocking, 38 MB cache, DDR5 support

For the state-of-the-art Socket AM5 platform, can support PCIe 5.0 on select 600 Series motherboards

Cooler not included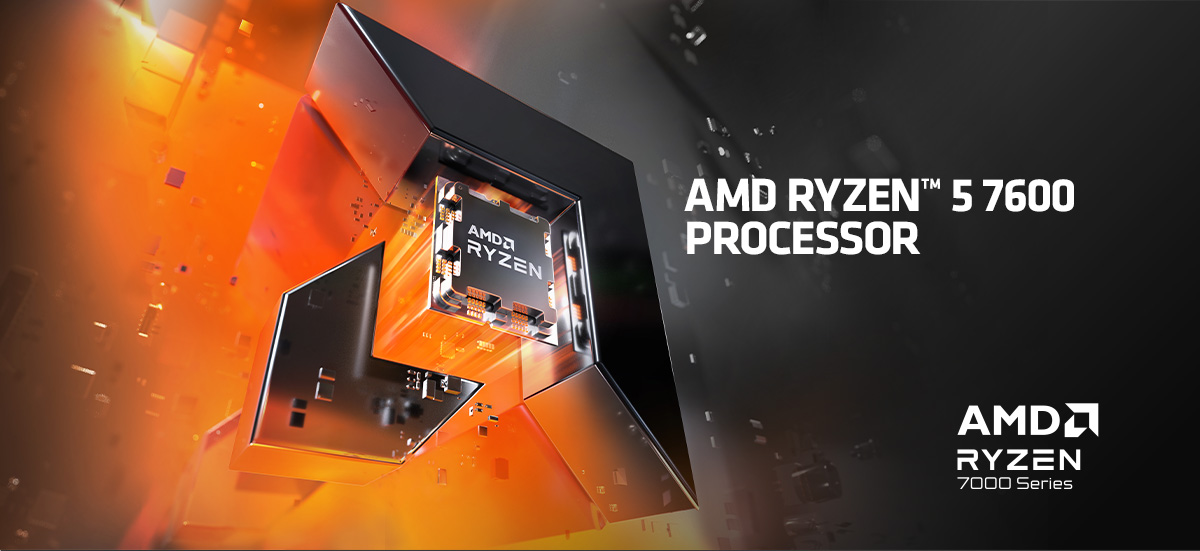 Powerful Gaming Starts Here
This overclockable processor is built for intense gaming, and can be bundled with a low-profile cooler.
GAMING PERFORMANCE OPTIMIZED FOR EFFICIENCY
Get a competitive edge with AMD Ryzen™ 5 7600 desktop processors and AMD Socket AM5 motherboards. Fast gameplay and performance for your game-winning moves.
HIGH PERFORMANCE LOW POWER
Overclock at an incredible value with AMD Ryzen™ 5 7600 processors. AMD Ryzen™ 5 7600 processor is built to help you beat the clock with time-saving connectivity like PCIe® 5.0, 6 cores/12 processing threads, and dedicated video accelerators.
UPGRADEABLE FOR YEARS TO COME
Power. Performance. Possibility. AMD Socket AM5 motherboards deliver new features for gamers, from the speed of DDR5 memory and AMD EXPO™ technology2 to the increased bandwidth with PCIe® 5.0, supported through 2025.
Join the AMD Red Team!
Share your PC-building experience and gaming adventures. Enter sweepstakes and contests, and make new friends!
"TechMathced offers a price-match policy for its customers. If you find anyone selling at less price than us, you can simply contact us and we'll match the price for you.
Read here in detail about Price-Match Policy."
For further details, visit the manufacturer's website.
For similar products, visit here.