Description
Buy Kingston A400 1.92TB SSD in Pakistan | TechMatched
Kingston 1.92TB A400 SATA 3 2.5″ Internal SSD SA400S37/1920G – HDD Replacement for Increase Performance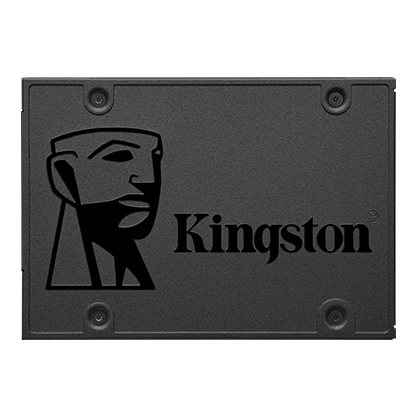 Key Features
Fast start-up, loading and file transfers

More reliable and durable than a hard drive

Multiple capacities with space for applications or a hard drive replacement
Kingston's A400 solid-state drive dramatically improves the responsiveness of your existing system with incredible boot, loading and transfer times compared to mechanical hard drives. Powered by a latest gen controller for read and write speeds up to 500MB/s and 450MB/s1, this SSD is 10x faster than a traditional hard drive1 for higher performance, ultra-responsive multi-tasking and an overall faster system.
Also more reliable and durable than a hard drive, A400 is built with Flash memory. There are no moving parts, making it less likely to fail than a mechanical hard drive. It is also cooler and quieter, and its shock and vibration resistance which makes it ideal for notebooks and other mobile computing devices.
A400 is available in capacities from 120GB–960GB to give you all the space you need for applications, videos, photos and other important documents. You can also replace your hard drive or a smaller SSD with a drive big enough to hold all your files.
This SSD is designed for use in desktop and notebook computer workloads and is not intended for Server environments.
Why choose A400 SATA SSD?
Fast start-up, loading and file transfers
More reliable and durable than a hard drive
Multiple capacities with space for applications or a hard drive replacement
10x faster than a hard drive
With incredible read/write speeds the A400 SSD will not only increase performance but can also be used to breathe new life into older systems.
Rugged
A400 is shock- and vibration-resistant for rugged reliability when used in notebooks and other mobile computing devices.
Multiple capacities
A400 is available in capacities up to 960GB2 to suit anyone's needs.
Ideal for desktops and notebooks
A400 comes in a 2.5" 7mm form factor to fit in a wide array of systems. It is ideal for thin and light notebooks with limited space.
Specifications
Form factor
2.5″
Interface
SATA Rev. 3.0 (6Gb/s) – with backwards compatibility to SATA Rev. 2.0 (3Gb/s)
Capacities2
120GB, 240GB, 480GB, 960GB
NAND
3D
Baseline Performance1
Data Transfer (ATTO)
120GB — up to 500MB/s Read and 320MB/s Write
240GB — up to 500MB/s Read and 350MB/s Write
480GB — up to 500MB/s Read and 450MB/s Write
960GB — up to 500MB/s Read and 450MB/s Write
Power Consumption
0.195W Idle / 0.279W Avg / 0.642W (MAX) Read / 1.535W (MAX) Write
Storage temperature
-40°C~85°C
Operating temperature
0°C~70°C
Dimensions
100.0mm x 69.9mm x 7.0mm (2.5")
Weight
39g (120GB – 2.5")
41g (240-480GB – 2.5")
41.9g (960GB – 2.5")
Vibration operating
2.17G Peak (7–800Hz)
Vibration non-operating
20G Peak (10–2000Hz)
Life expectancy
1 million hours MTBF
Warranty/support3
Limited 3-year warranty with free technical support
Total Bytes Written (TBW)4
120GB — 40TB
240GB — 80TB
480GB — 160TB
960GB — 300TB
"TechMathced offers a price-match policy for its customers. If you find anyone selling at less price than us, you can simply contact us and we'll match the price for you.
Read here in detail about Price-Match Policy."
Read details specs of the product here