Description
Buy Gigabyte H610M-H V1 Motherboard in Pakistan | TechMatched
Gigabyte Intel H610M-H V1 Motherboard, PCIe 4.0* Design, Gen3 x4 M.2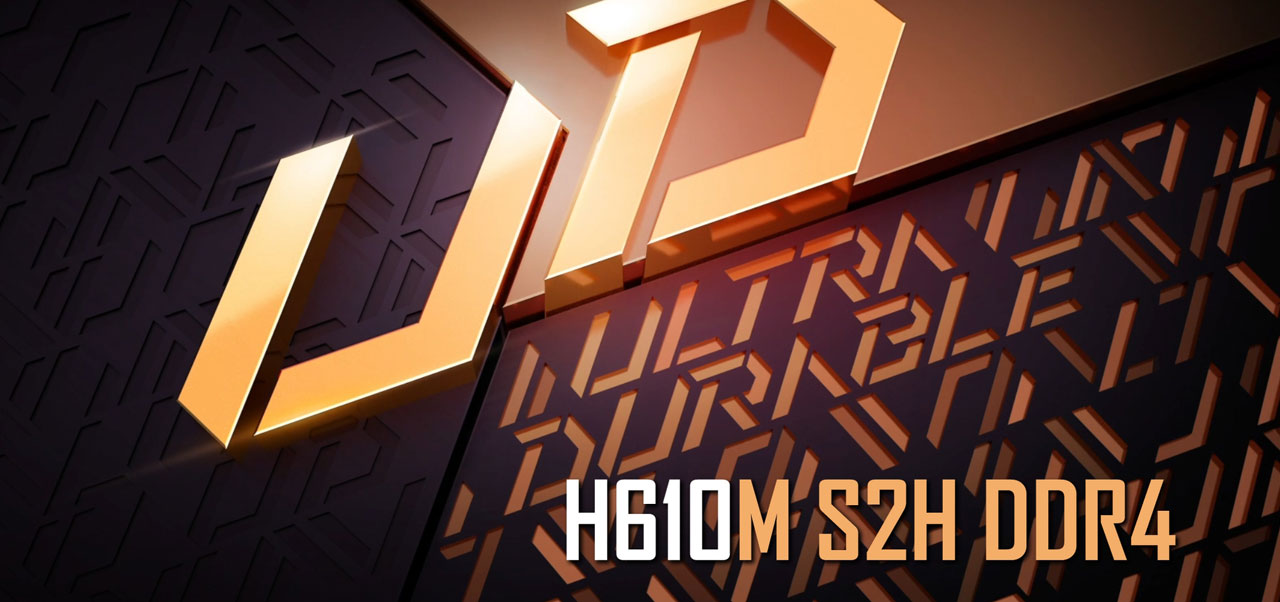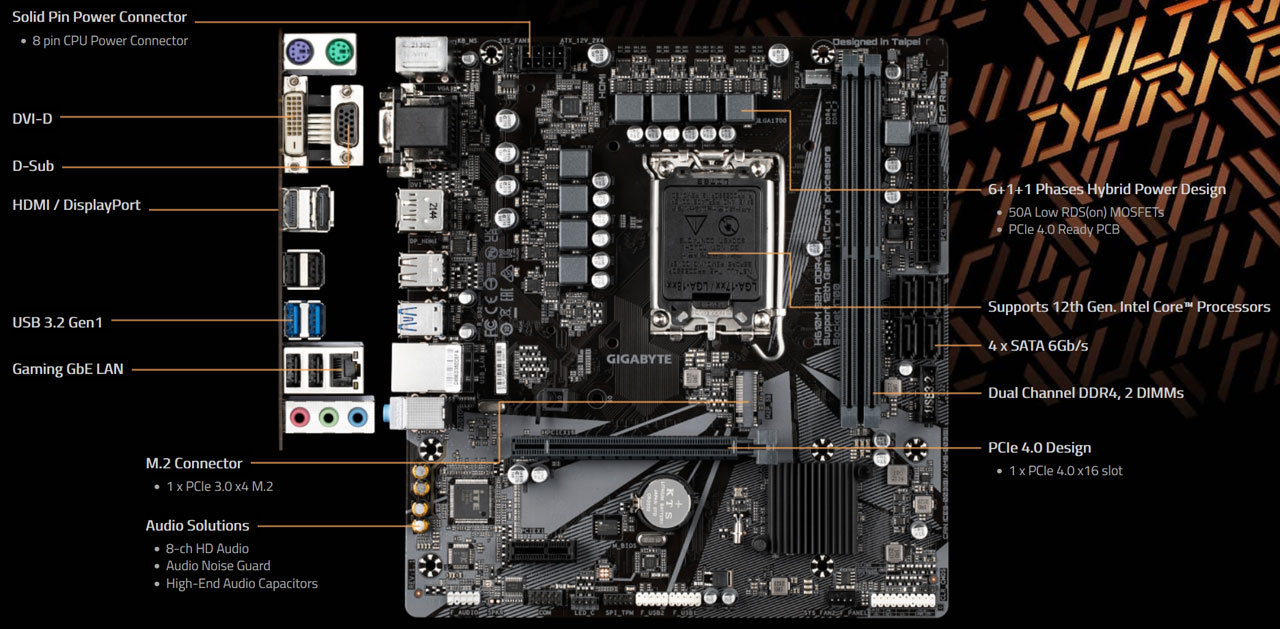 Solid Pin Power Connector
8 pin CPU Power Connector
D-Sub
HDMI
USB 3.2 Gen1
Intel® GbE LAN
M.2 Connector
1 x PCIe 3.0 x4 M.2
Audio Solutions
8-ch HD Audio
Audio Noise Guard
High-End Audio Capacitors
6+1+1 Phases Hybrid Power Design
50A Low RDS(on) MOSFETs
PCIe 4.0 Ready PCB
Supports 12th Gen. Intel Core™ Processors
4 x SATA 6Gb/s

Dual Channel DDR4, 2 DIMMs

PCIe 4.0 Design

1 x PCIe 4.0 x16 slot
6+1+1 Phases Hybrid Power Design
Cleaner and more efficient power delivery to the CPU with better thermal performance ensure stability under high CPU frequencies and heavy loading.
6+1+1 Phases Low RDS(on) MOSFETs
Solid capacitors to improve transient response and minimize oscillation.
8-pin Solid Pin CPU Power Connector.
Intel® GbE LAN with cFosSpeed Internet Accelerator Networking
Intel® GbE LAN features cFosSpeed, a network traffic management application which helps to improve network latency and maintain low ping times to deliver better responsiveness in crowded LAN environments.
Solid Pin Power Connectors
H610 motherboards feature solid plated ATX 12V 8pin power connectors to offer a stable power supply during CPU overloading.
Solid Pin Power connector advantages
Larger contact area for electricity
More metal quantity to sustain higher power and generated heat
Ultra durable and longer lifespan
BIOS
The BIOS is essential for users during initial setup to allow for the most optimal settings. With a new GUI and easier to use functionalities, GIGABYTE has been able to reinvent the BIOS to give users a better experience while setting up their new system.
* Photos are for reference only. Product features may vary by model.
32GB Support in A Single Slot
The maximum memory capacity on the H610 motherboard is 64 GB. After Intel updated the memory reference code, a single slot can support up to 32 GB. Therefore, with populated 2 DIMM per channel on both channel, total memory capacity is 64GB, which was only available on High End Desktop (HEDT) platforms. For users who always run out of memory capacity, there is more bandwidth now for memory-intensive application such as rendering and video editing.
Smart Fan 6
Smart Fan 6 contains several unique cooling features that ensure gaming PC maintain its performance while staying cool and quiet. Multiple fan headers can support PWM/DC fan and pump, and users can easily define each fan curve based on different temperature sensors across the board via intuitive user interface.
High Current Support
Each fan header supports PWM and DC fan and Water cooling Pump, and up to 24W (12V x 2A) with Over-Current Protection
Precision Control
Up to 7 temperature/fan speed control points for precise fan curve
Dual Curve Mode
Slope/Stair dual mode for different user scenarios
Fan Stop
Fan can stop completely below users' specified temperature point
Smart Fan 6 BIOS UI
Improve fan curve UI
We increase control points from 5 to 7 and larger fan speed graph for precise and easier fan curve control.
Slope/Stair dual graph mode
Fan curve can be quickly switched between Slope and Stair modes for different user scenarios. Slope is traditional and intuitive linear fan speed curve. With newly added Stair non-linear mode, fan keeps at the same speed between specified temperature intervals.
Manual Input
For advanced users, we provide fan speed manual input for more precise control.
EZ Tuning
Users can place 4 EZ Tuning points at rough temperature/fan speed, and Smart Fan 6 can quickly generate a fan curve.
Fan curve profile
Fan curve profile can be saved in BIOS ROM. Profile will be kept after BIOS is updated.
Hybrid Cores OptimizationWith new Intel Hybrid technology, GIGABYTE exclusively creates two new "CPU Upgrade" in BIOS profiles to meet different users' scenarios by adjusting P-Core and E-Core activation and voltage policy.
Exclusive Realtek 8118 Gaming LAN
High Speed Gigabit LAN with Automatic Bandwidth AllocationRealtek 8118 LAN is a high performance and friendly network chip for gaming players with automatic bandwidth allocation to ensure the highest network priority of the game or application. It can provide users the most comprehensive features and the fastest and smoothest Internet experience.
START SULFURIZATION PROTECTION
Sulfur compounds in the air can penetrate tiny onboard resistors creating chemical change and causing these resistors to open or short. If either of these occurs the motherboard will fail to function. Equipping resistors with an Anti-Sulfur Design GIGABYTE gives Ultra Durable Motherboards a whole new meaning.
"TechMathced offers a price-match policy for its customers. If you find anyone selling at less price than us, you can simply contact us and we'll match the price for you.
Read here in detail about Price-Match Policy."

For further details, visit manufacturer website