Description
Buy Asus ROG Herculx GPU Holder in Pakistan | TechMatched
ASUS ROG Herculx Graphics Card Anti-Sag Holder Bracket (Solid Zinc Alloy Construction, Easy Toolless Installation, Included Spirit Level, Adjustable Height, Wide Compatibility, Aura Sync RGB)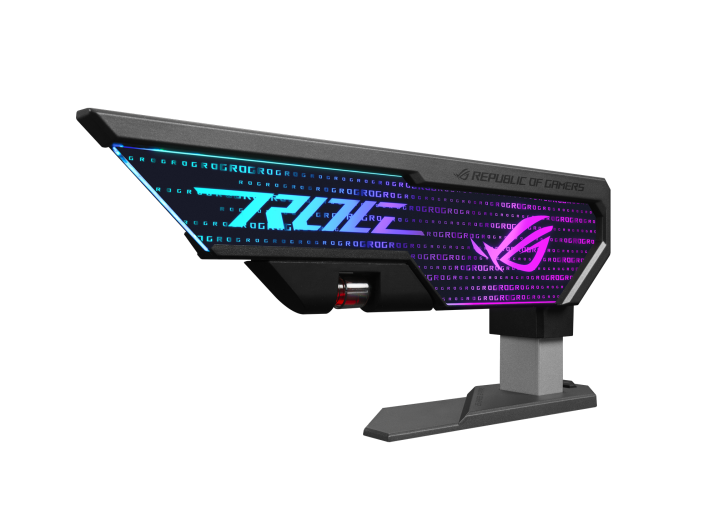 Product Description
Stand design is compatible with a variety of chassis and doesn't occupy PCIe slots.

Offers a support height of 72-128 mm, delivering a strong, adaptable design.

An adjustable wheel and release button enable easy, toolless setup and removal.

Included spirit level simplifies setup.

Embedded 3D ARGB element is compatible with Aura Sync.
ROG HERCULX
ROG Herculx Graphics Card Holder
The robust ROG Herculx Graphics Card Holder securely fortifies even the most powerful cards, plus offers an easy-to-use design and extensive compatibility.
PILLAR OF STRENGTH
The ROG Herculx packs the structural integrity to bear the burden of even the heaviest graphics card. Toolless installation, precision adjustment, and customizable RGB lighting are combined into a space-saving design that neatly slides in to protect your investment in GPU horsepower.
STRONG AND ADAPTABLE
With an adjustable height ranging from 72 to 128 mm and the strength to support even the most powerful graphics cards in a variety of chassis, the upright design of the Herculx banishes sag without cluttering your build.
Support height from 72 ~ 128mm
Solid Vertical and Upright Brace Design
NO TOOLS NECESSARY
ROG Herculx installation is completely toolless — simply lift the extending platform and use the adjustable wheel to fine-tune height. And for easy removal, the platform releases smoothly at the touch of a button.
NEXT-LEVEL PRECISION
Use the magnetic spirit level to ensure your graphics card is perfectly aligned.
BRILLIANCE TO MATCH YOUR BUILD
A 3D ARGB element on the side of the top platform radiates lighting effects that can be customized and synced with other ASUS components via Armoury Crate.
"TechMathced offers a price-match policy for its customers. If you find anyone selling at less price than us, you can simply contact us and we'll match the price for you.
Read here in detail about Price-Match Policy."
Find more GPUs in your budget!