Description
Buy Thunder Armour White Gaming Case in Pakistan | TechMatched
Thunder Armour Tgc-a-63 Gaming Case with 3 Fans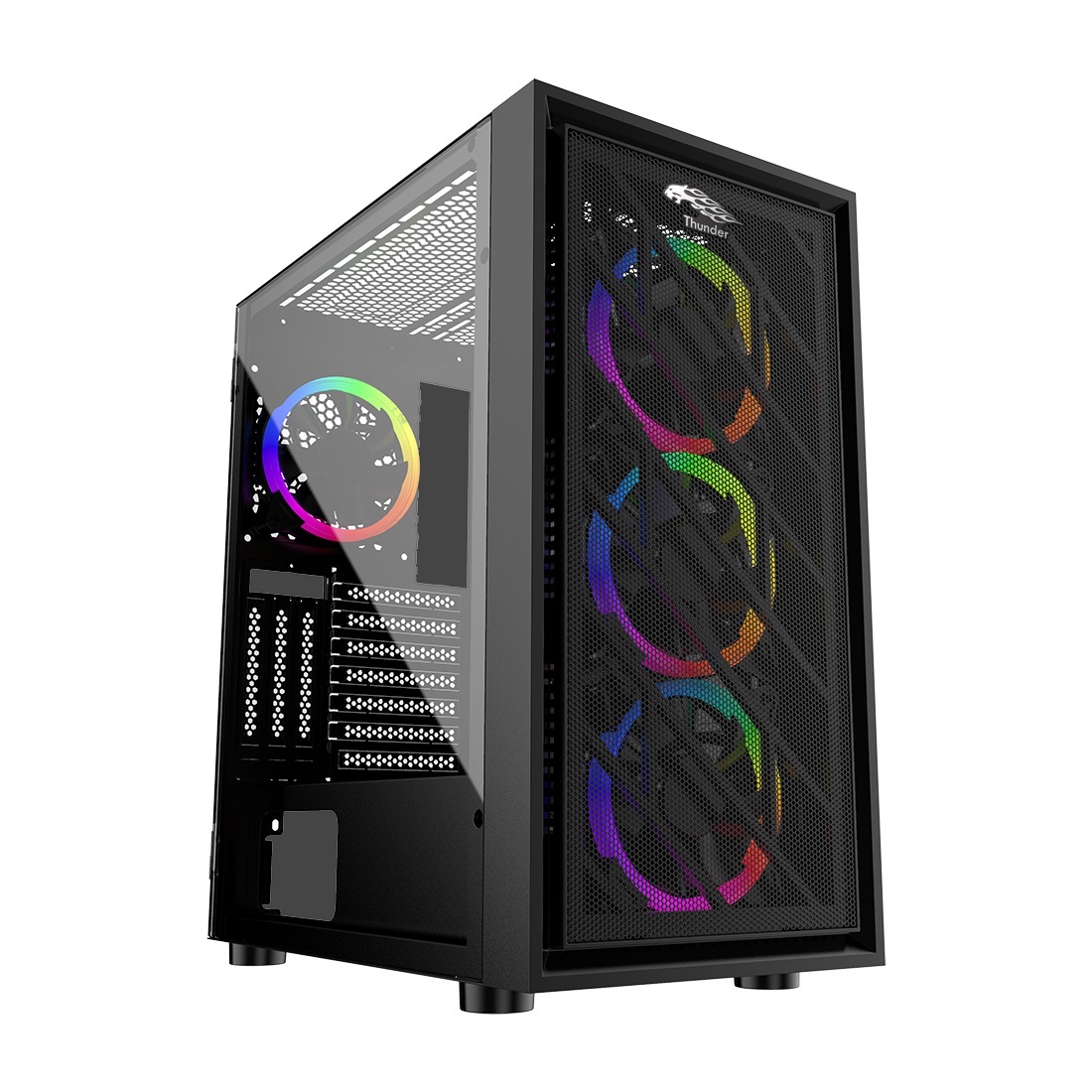 Key Features
Supports ATX and micro-ATX Motherboards
Glass panel on left

Front Panel Ports are USB 3.0 x 1 + USB 1 x 1 & 2 HD Audio

Power Supply Support ATX
Product Overview
AMD approved casing
Intel approved casing
Model No: TGC-A-63
Model Name: ARMOUR
Case Form Factor: ATX
Material: 0.6mm, SPCC Black,
Window: Left glass, the right metal
Motherboard Type: ATX, Micro ATX
Front Panel Ports: USB3.0*1+USB1.1*2 HD Audio
Cooling System: Front: 3x 120mm (included) or 3x140mm, Top:2x 120mm or 3x140mm(optional), Rear: 1x 120mm or 1x 140mm (optional)
Drive Bays: 3.5HDD*2, 2.5SSD*2
Power Supply Support: ATX
Expansion Slots: 7+3
Maximum Dimension: CPU Cooler: 190mm
VGA: 340mm
Structure Size: 350*230*445mm
Carton Size: 500*280*465mm
Strong Cooling Meets Smart Lightning
High Airflow Layout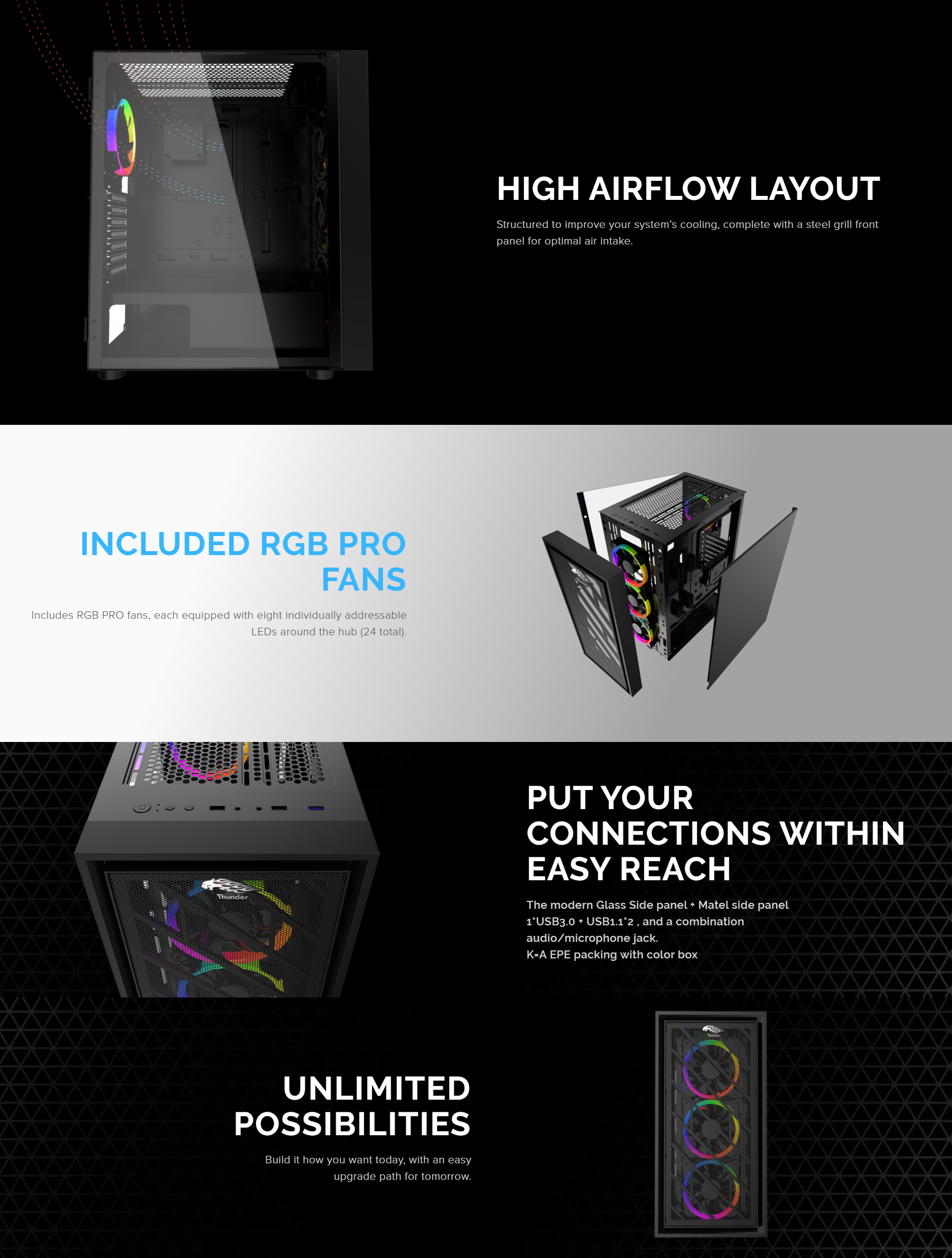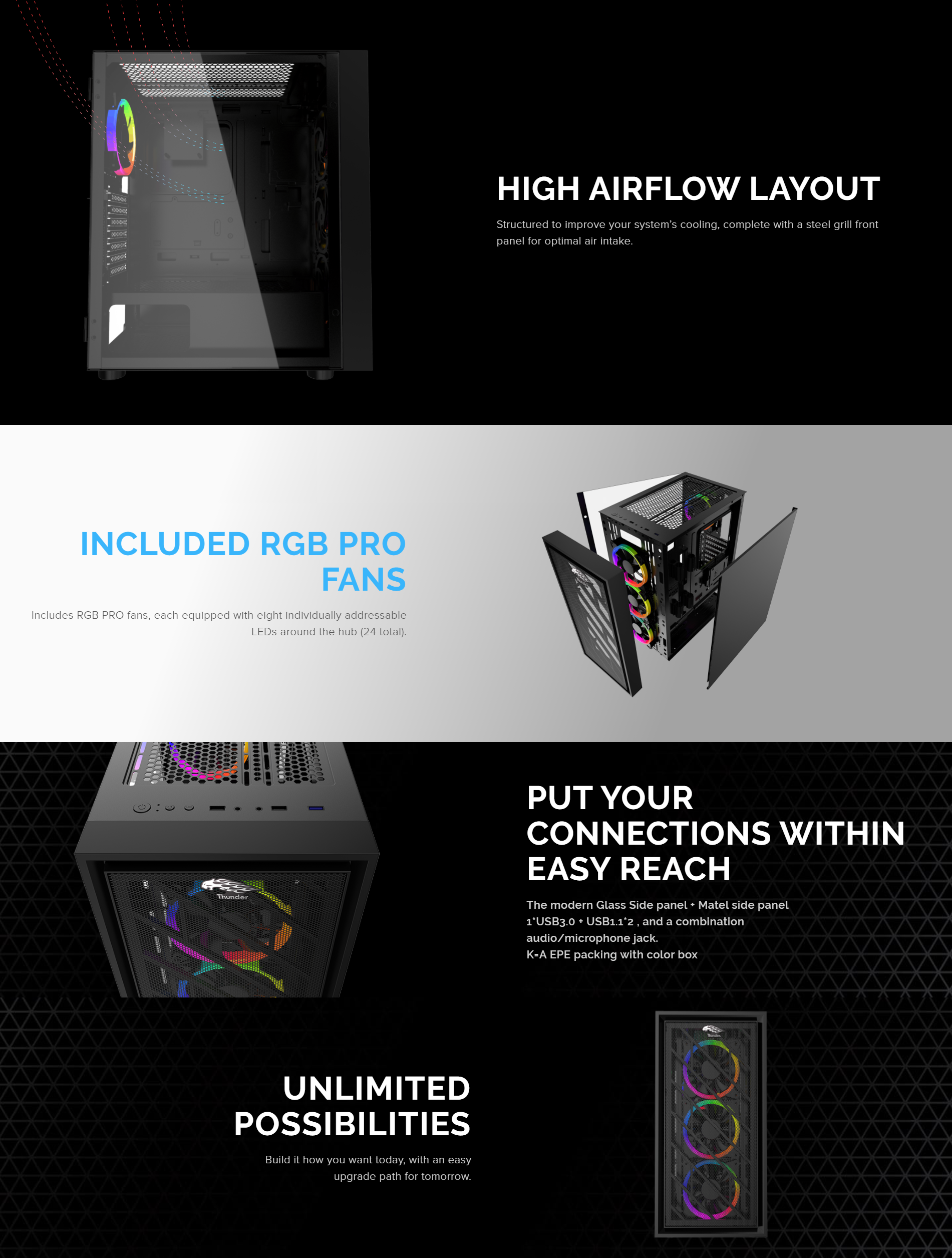 Structured to imporve your system's cooling, complete with a steel grill front panel for optimal air intake.
Includes RGB Pro Fans, each equipped with eight individually adressable LED's around the hub (24 total).
Put you Connection within easy reach
The modern Glass Side panel + Matel side panel
1*USB3.0 + USB1.1*2 , and a
combination audio/microphone jack.
Unlimited Possibilities
Build it how you want today, with an easy upgrade path for tomorrow.
For more details, visit official website here.
"TechMathced offers a price-beating policy for its customers. If you find anyone selling at less price than us, you can contact us, and we'll beat the price for you.
Read here in detail about Price-Match Policy."